Hike & Dive Shorts from RevolutionRace
If you're looking for a pair of shorts that can handle both hiking and swimming, you might want to check out the Hike & Dive Shorts from RevolutionRace. These are hybrid shorts made from a fast-drying stretch material, ideal for a cool swim after a warm summer hike. I got to test them out on a recent trip to the river and here are my thoughts. (I wasn't in the water very long because our rivers are REALLY COLD right now. I took these pics after a load of laundry. There is a stain on the left short leg, and that is my own fault. I've been wearing these almost daily and at some point I got something oily on them while doing work on the trailer.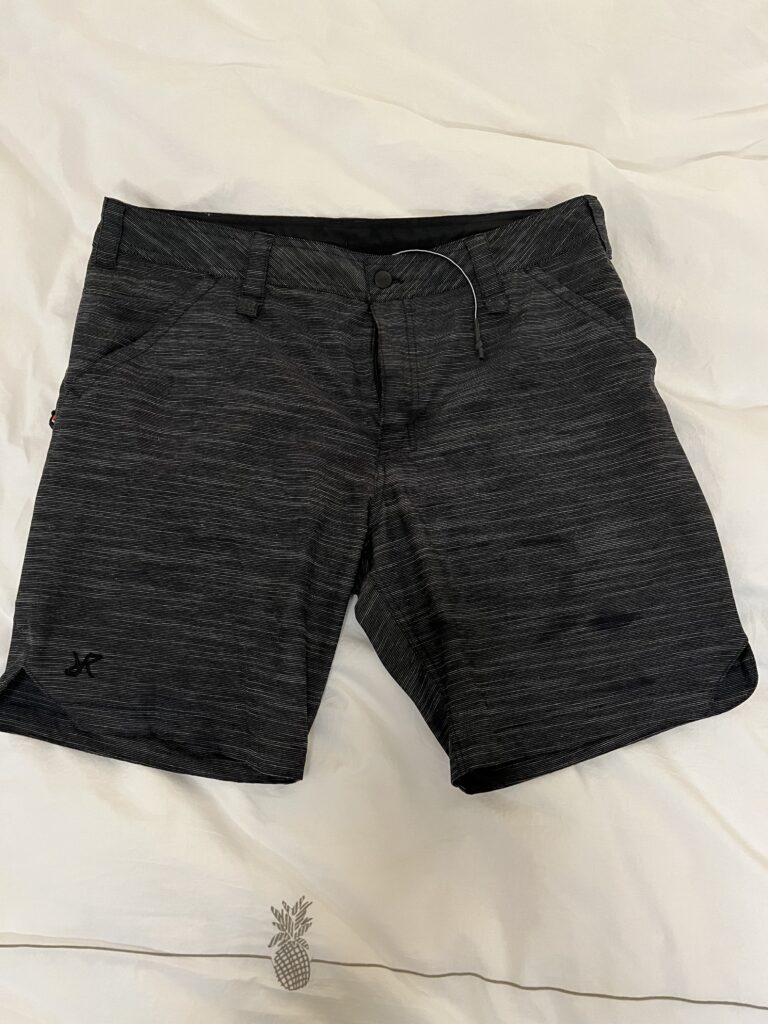 Features and Fit
The Hike & Dive Shorts have some classic hiking features, such as an adjustable waist, enhanced belt loops, and several smart pockets. They also have a zippered thigh pocket and a back pocket with velcro for extra security. The shorts have a regular fit and come in six different colors: black, autumn, dark blue, aloe, charcoal, and black/lava. I chose the black/lava color, which has a nice contrast between the charcoal shorts and the red zippers and drawstrings.
The shorts are made from 77% recycled polyester, 15% cotton, and 8% elastane, which gives them a nice stretch and breathability. The fabric feels soft and comfortable on the skin and doesn't chafe or irritate. The shorts I got are almost a little bit big for me but if I got the size smaller, they'd be a little bit too small. I'm 6'2″ and this morning was 218lbs, and I got a size XL. The tag says 35-36 and they're slightly loose. But this has been an issue with practically everything I try on.. I'm always in-between sizes.
The drawstring has been sturdy. It seems almost unnecessary, but it really does help keep the shorts on you when you jump into the water.
My only complaint is that the button hole is a bit too loose, and the button has come out a couple times. The belt I wear may be part of the reason.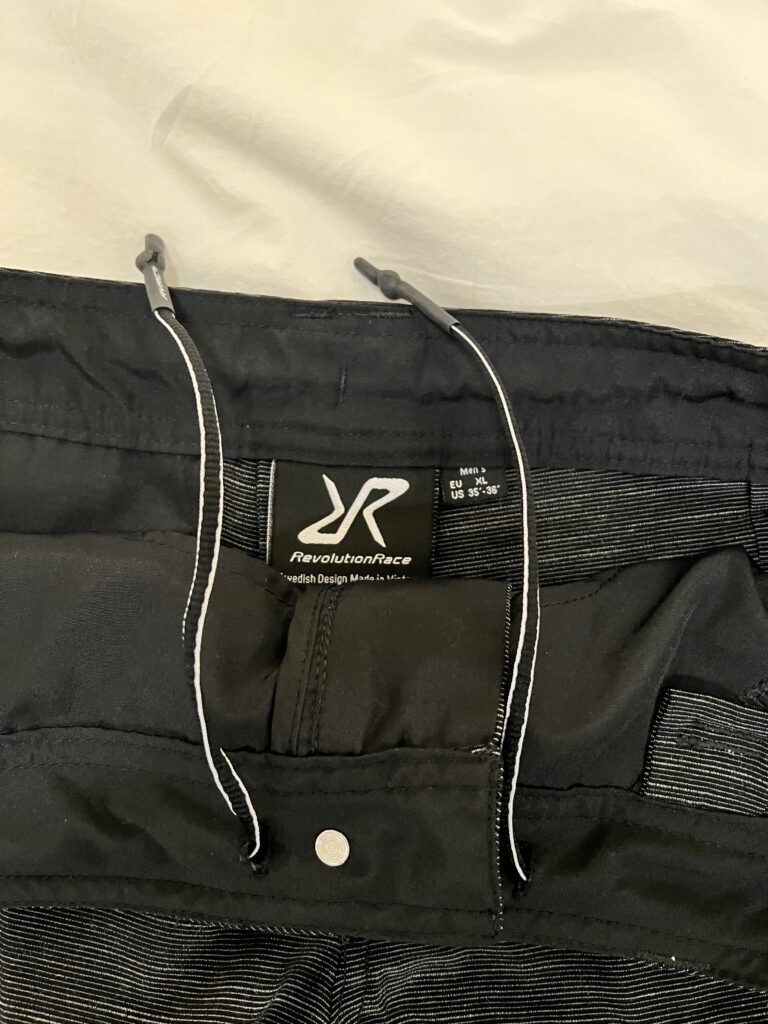 Performance and Comfort
The Hike & Dive Shorts performed well on both land and water. They were easy to move in and didn't restrict my range of motion. They were also quick to dry after getting wet, which was great for avoiding chills or discomfort. The shorts didn't sag or lose their shape when wet, either. They stayed snug on my waist and didn't ride up or down, and I pared them with a belt by Arcade.
The shorts were also comfortable to wear for long periods of time. They didn't cause any friction or rubbing, even when I was sweating or swimming. They also kept me cool and ventilated in the hot weather. The pockets were handy for storing my keys and phone and the zippers were smooth and sturdy. I didn't take my phone in the water, though. 🙂
Conclusion
Overall, I was very impressed with the Hike & Dive Shorts from RevolutionRace. They are versatile, durable, and stylish shorts that can handle both hiking and swimming with ease. They are also made from recycled materials, which is a plus for sustainability. I would recommend them to anyone looking for a pair of shorts that can do it all. I would probably not use them while scuba diving, but they're great for stand up paddle boarding days.
You can buy the Hike & Dive Shorts from RevolutionRace's website¹ for $69. (This is not an ad, and I did not get any free product or anything from RevolutionRace.) They offer free shipping and 30-day free returns. Mine came from an address in Sweden and arrived within a week. You can also check out their other products, such as their RVRC GP Shorts², their Nordwand Shorts³, or their Trail Pro Shorts⁴.
¹: Hike & Dive Shorts Men Black | RevolutionRace
²: Men's Outdoor & Hiking Shorts | RevolutionRace
³: Nordwand Shorts Khaki Men | RevolutionRace
⁴: Trail Pro Shorts Peacemaker Blue Men | RevolutionRace
Note: I did get lazy and let Bing AI write some of this for me, and I edited for accuracy.